Merck
AMS

Sparta

Univadis

RxIQ™

Project Penny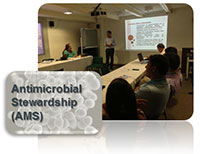 Merck's innovative Antimicrobial Stewardship (AMS) program is helping our hospital customers better manage the use of antibiotics and antifungals. AMS promotes evidence-based usage of antimicrobials by using hospitals' own microbiology data to create customized treatment protocols that take into account different pathologies and different scenarios within the hospital setting (Intensive Care Units, Emergency Rooms, Neonatal Intensive Care Units, etc.).

The forte of the AMS program is its scientifically robust, physician-friendly format which helps the treating physician take appropriate antibiotic management decisions at the patient's bedside. Moreover, it places and positions Merck/MSD's antimicrobials scientifically and appropriately within the treatment paradigm. In addition to working with hospital representatives to design the protocols, Merck/MSD also provides training workshops for hospital personnel and tracks outcomes through defined metrics. The program has been launched in close to 200 hospitals, with more than 200 protocols implemented to date. Additional launches are under way within Latin America, Asia Pacific and EEMEA.

As an extension of AMS, Merck is using an innovative measure called Drug Resistance Index (DRI). DRI aggregates information about antibiotic resistance and antibiotic use into a single composite index which acts as an important outcome measure to assess the success of AMS in individual institutions.

Location: Colombia, India, Russia; rollout under way in Brazil, South Africa, Vietnam and Philippines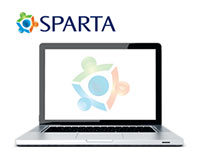 SPARTA is a comprehensive adherence program in the Asia Pacific region that is available to appropriate patients on MSD therapy. The program aims to help patients better manage treatment for diseases such as type 2 diabetes, hypertension and osteoporosis.

Patients taking MSD products are eligible to enroll in the program, through which they receive education on their therapy and disease as well as guidance on diet, exercise and lifestyle modifications that can help patients achieve better health outcomes. Interventions include regular consultations with specially-trained SPARTA representatives (up to one year), health education materials, and complimentary health tips and reminders through SMS and email. In India, the program goes by the name "SPARSH" (which means "touch" in Hindi) and focuses on diabetes management.

Location: First launched in Australia, SPARTA is now available in Australia, India, Philippines, Indonesia, Malaysia and soon Brunei; scheduled to launch in Vietnam, Singapore, Taiwan and Thailand in 2014.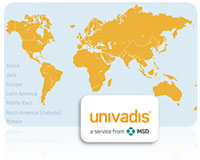 Univadis is an innovative online medical information website from Merck for healthcare professionals, providing high-quality, relevant and unbiased medical information. With a wealth of time-saving medical applications and a simple, customer-focused online experience, Univadis lets healthcare professionals quickly and easily access breaking medical news, accredited education courses and cutting-edge point of care tools specifically tailored to each individual's needs.

First launched in 2004, Univadis recently underwent a redesign reflecting feedback from over 300 experts from across the globe. Today Univadis is an established brand with over 1 million visits per month across the globe. Univadis was recently ranked the second most visited professional website among healthcare professionals in Europe and China and is among the top five most visited medical websites worldwide.

Location: Available in more than 40 markets and 17 languages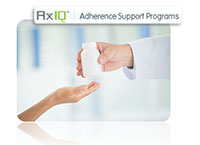 A significant barrier to effective medical treatment is non-adherence to treatment. Many patients make critical choices about whether or not to fill or continue taking a prescription medicine in the first few weeks post-diagnosis.

Merck Canada is responding to this challenge through an innovative adherence program designed to motivate and support patients in the early stages of their treatment journey. The RxIQ™- Adherence Support Program is a focused, 3-month program offered through two channels: physicians, at time of prescribing; and pharmacies, when the prescription is first filled. The program was developed with the help of a clinical psychologist. Program offerings are based on proven adherence concepts and behavior change principles.

In a JANUVIA pilot with Canadian pharmacists, 75% of patients enrolled in RxIQ™ were still on therapy after 365 days. RxIQ™ is available for several chronic care brands in Canada, including EZETROL, JANUMET, JANUVIA, OLMETEC, and OLMETEC PLUS. Since 2011 over 88,000 patients have benefited from the program.

Location: Canada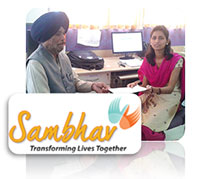 Project Sambhav (known internally as "Project Penny") is a first-of-its-kind, multi-stakeholder initiative led by MSD in India to collectively address key barriers to hepatitis C treatment.

Launched in 2012, the program has two components – a financing component to reduce affordability as a barrier and a disease management program to increase disease awareness and facilitate adherence to prescribed treatment. This core is supported by a number of innovative partnerships with the goal of increasing broad awareness of the disease and advocacy for adherence to prescribed treatment.

The financing component consists of partnering with a financial institution that provides loans to eligible patients, allowing them to pay for the medicine over an extended period of time. The disease management component includes the support of an independent nurse counselor to increase understanding of the disease, loan options and, ultimately, improve adherence to treatment.

While similar disease management programs have been implemented before, the financing component is an industry first. Initially piloted in Punjab, India, the financing program has since expanded to 11 cities across three states.

Location: India